Ghost Recon, also known as The Ghosts, formerly known as Delta Company, 1st Battalion, 5th Special Forces Group, is a Tier 1 Joint Special Operations Force of the United States Army.
Like the units under their parent organization; Joint Special Operations Command (JSOC), the operations conducted by the Ghost Recon are kept highly classified. It is shown that the Ghost teams have multiple designations and the Ghost Recon is commanded and administrated by JSOC, participating in highly classified covert operations.
They are similar to the Army's Intelligence Support Activity and Delta Force, the Navy's DEVGRU, and the Air Force's 24th Special Tactics Squadron.
The modern Department of Defense title for the Ghosts is the Group for Specialized Tactics (GST - where the term "Ghost" derives from) unit.
Ghost teams are often supported by the Special Activities Division's Special Operations Group (SAD/SOG) of the Central Intelligence Agency (CIA) and also sometimes with the National Security Agency (NSA) and the Defense Intelligence Agency (DIA). All Ghost members operate as Advanced Force Operations (AFO) teams.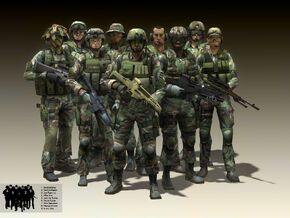 Delta Company, 1st Battalion, 5th Special Forces Group, also known as the Ghosts, is an elite Special Mission Unit within the U.S. Army and JSOC and is located at Fort Bragg, North Carolina. They were formed in 1994 and are a classified special operations unit.
Armed with the state-of-the-art weapon systems and trained in the best field and combat tactics, they are the most specialized and qualified special operations unit that JSOC has to offer. First in and last out because of their experience with striking enemies swiftly, silently and invisibly, hence this unit is known as Ghosts. The Ghost teams specialize in both covert and clandestine operations within denied or politically-sensitive territory with little to no support. Most of their operations before 2011 were in the information security (infosec) between classified to top secret level and were only known by the Chief of Staff, the President and most of all; the CIA, NSA and DIA. Until an American television series; Modern Heroes that aired after 2011, reviewed some those details to the public. At least other sensitive documents about this unit aren't revealed, to prevent anyone knowing too much about the Ghosts.

The primary role of the Ghosts appears to be conducting deniable Advance Force Operations which often involve:
Secondary roles historically have included:

As Special Operations members, they are trained to execute Direct Action raids (focused short-duration attacks). Typical tasks include assassinate or kidnap High-Value Targets (HVTs), secure or destroy sensitive documents and classified hardware, sabotage or harassment of the enemy.
Structure
Edit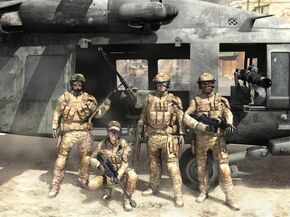 When deployed into combat, the Ghosts are usually organized into fire teams of four members led by a Ghost Lead. The GST is organized into a company-sized force consisting of approximately 200-250 operators. Scott Mitchell is the commander of the Ghosts. Captain Nick Salvatore, Captain Jennifer Burke, and Captain David Foster command their teams after many years as NCOs with then-Captain Mitchell.
Future classes:
Ghost SF teams are organized into Advanced Force Operations (AFO) units: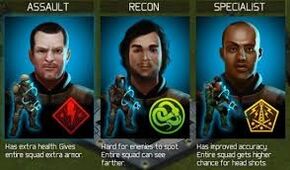 Post-Russian Insurgency, the team was reorganized into the Group for Specialized Tactics and given dedicated logistics support and air support. Also, around that time, the team was reorganized into three classes: Specialist, Assault, and Recon.
Selection
Edit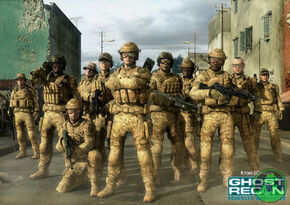 Only the most elite operators are invited to become Ghosts, having already proved themselves in combat during previous deployments. While all Ghosts serve with a strong sense of honor and duty, they understand their success will never be publicly acknowledged by politicians or broadcast on the evening news.
Phase - I involves selection of potential Ghosts. The candidates are selected from various branches of the U.S. military. They go through a selection phases which involves a physical and mental test. Candidates who pass this test are then qualified for Phase - II.
Ongoing training in weapons, tactics, and commands are held at their headquarters in Fort Bragg. Around 2013, they also had access to combat simulators (shown in the Battle Simulator in 2014).
Phase - II involves advanced combat training, language learning and gadget training. Candidates who successfully pass the second phase are commissioned as full fledged Ghosts and are then assigned to either a team on training, a team on standby or a team that is ready for deployment.
Moreover, Ghost Recon training emphasizes on team coordination, technology usage, survival, stealth and direct combat with which involves 4 Ghosts as a 4 men fireteam against a huge group of hostiles.
Whatever there's a crisis, the Ghosts are available for immediate deployment. Operating out of Fort Bragg, North Carolina, they can be deployed anywhere in the world within an 18-hour window. When a helicopter insertion is not an option, the Ghosts are trained to enter hostile territory by other methods, including High Altitude-Low Opening (HALO) jumps.
While the Ghosts operators are armed with a variety of lethal weapons, they gain their greatest tactical advantage from their state-of-the-art communications and reconnaissance equipment. As eyes on the ground, it's up to the Ghosts to observe and report while commanders and politicians mull over decisions with potentially dire repercussions.
Each member of the Ghost team is equipped with the latest high-tech weaponry and communications equipment. All gear is designed to be lightweight, significantly reducing encumbrance. This allows each operator to move through a variety of environments at a speed of their own choosing.
Each member is trained in weaponry ranging from standard-issue firearms to the latest high-tech prototypes. Whether engaging hostile infantry or armored vehicles, the Ghosts are capable of neutralizing a variety of threats.
By utilizing a variety of intel-gathering devices and advanced optics, Ghosts don't have to physically see their enemies to engage them. By deploying Sensors or a UAV Drone, Ghost teams can keep tabs on enemy movements during firefights; enemies are displayed as silhouettes on the Ghosts' heads-up displays. Night Vision Goggles and metal-detecting optical devices allow the Ghosts to spot enemies through dense smoke and even thick pieces of cover.
The CROSS-COM system deployed by the Ghosts since early 2009 gives each team member the ability to stay in touch with one another and relay crucial intel and targeting information. All data is displayed on an eyepiece, allowing each operative keep their eyes on the action while staying informed. The CROSS-COM system can interface with a number of heavy weapons systems and drones, such as the Warhound drone in 2024. While the Ghosts have the capability to neutralize infantry and most vehicles, they must seek out heavier firepower when it comes to taking out main battle tanks and helicopters. When close air support is available, Ghosts operatives can even take control of guided missiles fired by Allied aircraft.
The Optical Camo allowing the Ghosts to slip through enemy defenses without firing a shot. Because they are often outnumbered and outgunned, the Ghosts are better off avoiding firefights. But Optical Camo has its limitations functioning only while the operative is moving slowly.
Frequently outnumbered by hostile forces, Ghosts never rush into a dangerous situation without first observing and planning. If lethal action is necessary, the Ghosts can get the upper hand in most engagements by marking targets and initiating synchronized shots to simultaneously neutralize multiple targets.
Many missions take the Ghosts to urban environments where they must rely on their Close Quarter Combat (CQC) training to safely navigate cramped alleys and streets while avoiding detection and collateral damage. Retrieval of VIPs often requires precise room-clearing techniques, where speed, expert marksmanship, element of surprise and violence of action are leveraged to overwhelm hostile forces.
The Ghosts are revered in the Special Operations community for their composure while under fire. These operators are often sent to extremely dangerous locations controlled by hostile forces intent on keeping their secrets from getting out. When all hell breaks loose, the Ghosts are more than capable of defending themselves and extracting successfully with intel critical in forming policy decisions and future military actions.
Each Ghost team must function in unison under a variety of high-stress situations. Psychological profiles and other personal characteristics are taken into account when forming each team. But no amount of data can predict how each unit will perform under pressure. Compatibility is truly tested on the battlefield, where Ghosts form tight bonds with their teammates.
The missions the Ghosts take can range from anything, from Hostage Rescue to Convoy Escort. They also conducted Lone Wolf sabotage operations.
2002-2010
Edit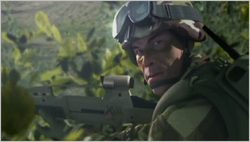 The Ghosts were in active service as of August 2002. Several were present at then-Master Sergeant Scott Mitchell's Silver Star medal ceremony.

In 2007, Mitchell joined the Ghosts and led a team during the First Korean war.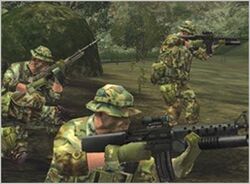 In 2008, the Ghosts were deployed to Georgia as part of peacekeeping operations in the Caucasus. They spearheaded the fight against the Ultranationalists in the 2008 Russian war.

In November 2009, Mitchell led a rescue mission in Waziristan. That year the Ghosts also led peacekeeping forces in the Eritrean war.

The following year, they went to Cuba and Colombia to safeguard elections and root out terrorism.
2011-2020
Edit
Their next major operation was the Second Korean War. Mitchell again led Alpha Team and hampered the North Korean war efforts. Their fight was documented on the Military Channel's show Modern Heroes after 2011. The episode included interviews with members of Alpha Team.
In 2012, the Ghosts conducted Operation War Wraith in China, along with eliminating Asad Rahil, the coup master in Kazakhstan.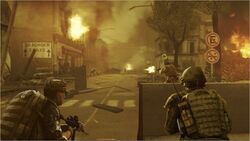 Mitchell also led Alpha Team during the Mexican upheavals, first stopping Ontiveros' coup and then stopping a weapon of mass destruction (WMD) attack during Juan de la Barrera's rebellion.

During this time, they were deployed to Afghanistan solely to eliminate the Taliban leader, Zahed. They encountered extreme difficulties and resistance from inside the US intelligence community.

In 2014, the Ghosts were the subject of a briefing for General Keyes about the future of warfare.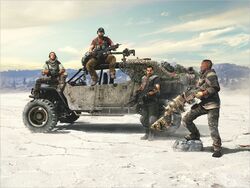 In 2019, the U.S. government sends in a Ghost team consisting of Nomad (Ghost Lead), Weaver (Sniper), Holt (Recon) and Midas (Specialist) to Bolivia in response to the bombing of the U.S. Embassy in La Paz and the death of undercover DEA Agent Ricky Sandoval. It is in this country that the Mexican Santa Blanca drug cartel has taken control over the local government, turning the country into a lawless narcotic state. The main profits and income of the cartel are by illegal exporting of cocaine, whose production is high in Bolivia. The Ghosts' mission is to down the cartel at all costs before they become too powerful and to break the connection between the cartel and the government in order to remove the cause of destabilization to the country. Another Unidentified Ghost recon operator was sent to uncover Santa Blanca Drug Cartel's secret smuggling boss El Invisible in Operation Narco Road.
Sri Lankan conflict
Edit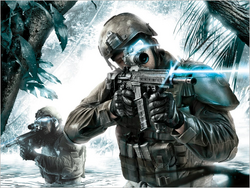 In 2020, The Ghost's Alpha Team meet with their government contact Ranjit Hisan, who leads Bravo Team. The Ghosts, acting on intelligence from a CIA contact, strike at the Activists, removing their leader Kumara Fazal. They soon find out that the contact was a double-agent for the Loyalists, and the Ghosts go behind enemy lines to make it seem like the other faction had betrayed the other. The rebels seize President Darsha, so the Ghosts rescue him. Eventually they hunt down the mastermind Sunil Ranga at his home and capture or kill him. They tell Hisan that they were never there and go on to their next assignment.
2021-2025
Edit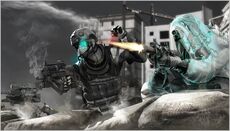 In 2021, Mitchell and the Ghosts, along with the Air Force H.A.W.X. Squadron, fought against the Artemis Global Security invasion.

A Ghost team also conducted an amphibious operation in Norway in the near future after the Russians invaded the country. Bravo Team helped the Allies in Moscow and neutralized General Maxim Cherskiy.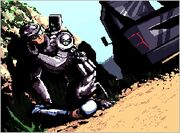 At the same time, a Ghost Lead worked with the H.A.W.X. Squadron during the rescue of David Crenshaw. Then, he worked with the Royal Navy when reclaiming Norway from the Russian ultra-nationalist military as part of a NATO operation, code-named Triton. He continued to work with the squadron during the subsequent retaking of Moscow and the manhunt for Aleksandr Treskayev in the Kremlin. A Ghost Team also intercepted a nuclear warhead while under the protection of the pilot HAWX2.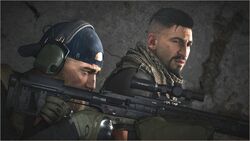 In 2022, the Ghosts were deployed in the Middle-East running counter-terrorism operations. Sometime after the operation was finished, Walker, along with several Ghosts, went rogue and they executed several Ghosts and a Senior Ghost. The remaining Ghosts under Nomad and Mitchell took down the Wolves, but they could not prevent Walker and the remaining Wolves from escaping.
In 2023, the Ghosts, now known as the Group for Specialized Tactics, also conducted Operation Take Down Overlord in Russia, and a Ghost Lead led a team to Sokolov's base.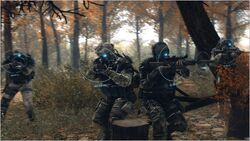 In 2024, Predator Team led by Master Sergeant Jose Ramirez was killed by the remote detonation of a nuclear warhead after they stopped a convoy transporting it in Nicaragua. Then, Mitchell decided to launch an investigation into their deaths by having Hunter Team led by Captain Cedric Ferguson to follow possible leads. The team was deployed to Bolivia, Zambia, Nigeria, Pakistan, Georgian border and Russia during the time of the Raven's Rock coup and discovered that Raven's Rock was responsible for killing Predator Team, Hunter then tracked down their leaders and eliminated all of them in Russia.

Later on, members of Hunter Team also helped track down a rogue CIA agent. At one point, the Ghosts assisted a rebellion in Nicaragua against President Raphael Rivera.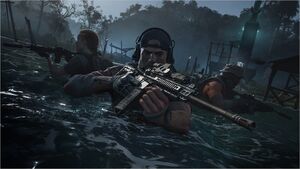 In 2025, the Ghosts conducted Operation Greenstone, as they are deployed for a reconnaissance mission at Skell Tech's new headquarters in Auroa after the U.S. government loses contact with the island and the company's CEO Jace Skell. Four teams of 32 Ghosts were taken out by drone swarms even before they could be deployed for the operation. Most of the Ghosts, other than Nomad, Holt, Midas, Fury, Vasily, Fixit and 2 male Ghosts were killed in action in an attack by the Wolves, a group of rogue military specialists and former Ghosts, led by former Ghost and Nomad's ex-brother-in-arms Walker.
After surviving the attack, the Ghosts find out that the Wolves have not only taken over the island's security and hired a private military contractor, Sentinel, to guard it, but they have also taken over the automated drone production facilities.

The Ghosts now not only have to complete the operation without support, but also at the same time, they have to survive and take down the Wolves. Nomad successfully managed to take out Walker who was hiding at his base of operations. Concurrently, the unit was deactivated by the Joint Chiefs of Staff following Walker and other Ghosts going rogue sometime after 2022. Later on, at the request of Mitchell, the unit was reintroduced as Group for Specialized Tactics.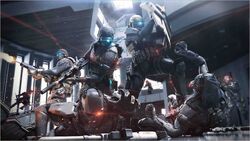 20 years into the future, the Ghosts were caught in a conflict with ex-Ghosts and other military operatives known as the Phantoms. Their first encounter was during a theft of ATHENA Corp. Information in Taiwan. After capturing an operative, they are led into a trap in Pakistan, but win the skirmish. When following up on the intelligence, Yankee team was captured by Omega Company.
Alternate Future (World War III)
Edit
In an alternate future of 2020, The Ghosts continued their operations during World War III.

The Ghosts also fought in England and Dubai during the hunt for the "Snow Maiden." Three teams were on the ground during the Russian invasion of Poland and they were saved by a Joint Strike Force gunship pilot. After the brainwashed Major Alice Dennison disappeared, General Mitchell deployed Ghost teams to look for her. Mitchell himself oversaw the assault on the Spetsnaz headquarters at Fort Levski.
Equipment
Edit
The Ghosts use a variety of weapons and equipment at this chart: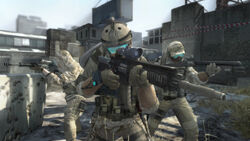 Recently, the Ghosts have started to make use of the Integrated Warfighter System, which includes the CROSS-COM, under version of 1.0 & 2.0 systems in 2010s and 3.0 versions in 2020s. They also use high-tech gadgets like the UAV Drone from Skell Technology and the Warhound. The Ghosts also have a set of uniforms, which changed over the years.
Notable Members
Edit
Ex-Ghost Recon Members
Edit
Community content is available under
CC-BY-SA
unless otherwise noted.