Ghost Recon Commander is a free-to-play game on Facebook launched in June 2012.
Gameplay
Players choose their character from one of three classes: Assault, Specialist, or Recon. It is a turn-based overhead game using a point-and-click system. Players have a variety of weapons and gadgets at their disposal and can customize their Base Camp with structures and decorations.
Storyline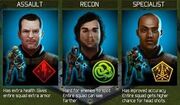 Around the time of the Raven's Rock coup, Nicaraguan leader Raphael Rivera has turned from democratic President to dictator, and The Ghosts are deployed to aid and abet a fledgling Rebellion and prevent the use of a WMD. The Ghosts eventually confront and kill Rivera in his own mansion, protected by his Elite Guard.
Ghosts
Trivia
On November 7, 2012, it was announced that the game would shut down at the end of the year and the development team had been laid off.
Two more missions were planned but not implemented before the shutdown.