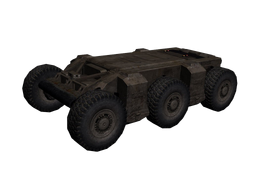 The Multifunction Utility/Logistics and Equipment (MULE) vehicle is an autonomous Unmanned Ground Vehicle developed by Lockheed Martin Missiles and Fire Control for the United States Army's Future Combat Systems program.
Description
The MULE is a 2.5-ton Unmanned Ground Vehicle (UGV) that will support dismounted and air assault operations. It consists of four major components:
Common Mobility Platform (CMP)
One of three Mission Equipment Packages:

Multifunctional Utility/Logistics and Equipment-Transport (MULE-T),
Multifunctional Utility/Logistics and Equipment-Counter Mine (MULE-CM)
Armed Robotic Vehicle-Assault Light (ARV-A-L)

Centralized Controller (CC) for Dismounted operations
Autonomous Navigation System (ANS) mission payload package integrated on the MULE platforms and Manned Ground Vehicles (MGVs) to provide semiautonomous and leader-follower capability.
Use
The MULE is sling-loadable under military rotorcraft. It has three variants sharing a common chassis; transport, counter mine and the Armed Robotic Vehicle (ARV)-Assault-Light (ARV-A-L).
The XM1217 Transport MULE Vehicle (MULE-T) will carry 1,900-2,400 pounds of equipment and rucksacks for dismounted infantry squads with the mobility needed to follow squads in complex terrain.
The XM1218 Counter Mine MULE Vehicle (MULE-CM) will provide the capability to detect, mark and neutralize anti-tank mines by integrating a mine detection mission equipment package from the Ground Standoff Mine Detection System (GSTAMIDS) FCS (BCT) program.
The XM1219 ARV-A-L MULE Vehicle is a mobility platform with integrated weapons; an M240 7.62mm machinegun, four Javelin guided antitank missiles, and reconnaissance, surveillance and target acquisition (RSTA) package to support the dismounted infantry's efforts to locate and destroy enemy platforms and positions.
The MULE Common Mobility Platform (CMP) is the program's centerpiece providing superior mobility built around the propulsion and articulated suspension system to negotiate complex terrain, obstacles and gaps that a dismounted squad will encounter.
In Ghost Recon
The MULE appears in GRAW 2 as a mobile re-supply station. It is controlled similarly to the UAV Drone. As well as supplying the Ghosts with weapons and equipment, it can also be used as mobile-cover or to scout out forward areas. Not to mention the GRAW 2 implemented MULE offers interesting show when the player commands it to cross a tank wreckage in a constrained area (typically a narrow street) - the MULE usually falls over on its back and becomes useless to the player.
Gallery
External links