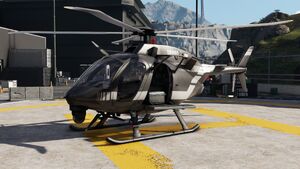 The Overseer is a light transport and attack helicopter deployed on Auroa in Tom Clancy's Ghost Recon Breakpoint.
Description
"

The Overseer is a standardized helicopter that can be equipped with various side weapons to suit different purposes.

- In-game Description

"
A common helicopter, operatives will find the Overseer unarmed, equipped with gatling guns, twin rocket pods, or Mk. II variant's heavy rocket launchers.
Engine power = 1800 kW
Top speed = 240 km/h
Torque = 300 Nm
Seats = 6
Armament = (Varies)
Variants
0 armament

Standard
Desert
Hill
Snow
Jungle
Russian
Gatling guns

Standard
Desert
Hill
Snow
Jungle
Rocket pods

Standard
Desert
Hill
Snow
Jungle
Mk. II guided missiles

Standard
Desert
Hill
Snow
Jungle
Resistance
Metal Bee
Trivia
The helicopter appears to be based on various light gunship helicopters, presumably the Boeing AH-6.
With the Mark 2-variant, you don't have to wait for the lock on system to fully commence, the missiles will still head toward the direction of the target when the helicopter is attempting to target, but the missiles won't follow the destination.
The rocket variants are able to one-shoot every drone type except Behemoths (Titan Drones cannot be fought in vehicles anyway).
Gallery
See also