Background
click the SOCOMs link to join the Discord!
SOCOMs Pacific is a GST (Group for Special Tactics or "Ghost") Command Based in the Auroa Archipelago situated in the Southern part of the Pacific Ocean. It was established on October 4, 2019 as the "Spearhead" of the Auroa U.N. Defense Department with 10 doctrinal missions: counter-terrorism, counter-insurgency, direct action, unconventional warfare, foreign internal defense, special reconnaissance, information/ psychological operations, counter-proliferation of weapons of mass destruction, security force assistance, and hostage rescue. The Main directive of this command is to pacify the presence of the Sentinel Corporation, a rogue PMC, originally hired by an unsuspecting Jace Skell to help protect his utopian society.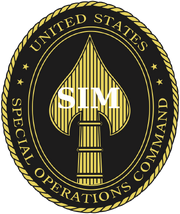 "SOS" Special Operators School
The SOCOMs also operates as a Joint Spec. Ops. Command which provides a Special Operators School "SOS" with a training directive focused on Direct Action, specifically within the Auroa Area Of Responsibility; it is based at the (FOB-1 & 2) SOCOMs Naval Base Auroa/ Airfield. The Special Operators School has six different focus areas which sharpen the Unconventional Warfare skills of each Operator, preparing them to become a GST "Ghost" in the variable terrain of the archipelago which includes beach access to the Pacific Ocean, marshlands, and snow capped mountain ranges.
Joint Special Operations Command
SOCOMs operates in conjunction with the other Joint Task Force units in the Milsim Community Plus to complete Joint Task Force Missions within the Southern Pacific, under the Jurisdiction of the U.N. General Assembly Auroa.
Uniforms

| | The SOCOMs Type-1 (Multicam) is the primary uniform for general operations. |
| --- | --- |
| | The SOCOMs Type-2 (Multicam Arid) is the primary uniform for general operations within an Arid AOR. |
| | The SOCOMs Type-3 (Scuba) is the primary uniform for an insertion from the Sea, during night time operations. |
| | The SOCOMs Type-4 (Multicam Alpine) is the primary uniform for an area of responsibility with an Alpine geography, during operations with winter like conditions. |