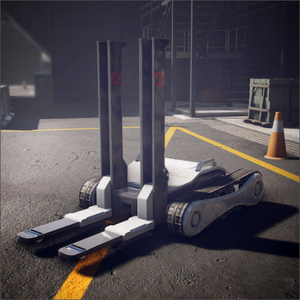 Skell-Carrier, a pallet jack drone, is an autonomous machine used to lift and move pallets or boxes in warehouses.
Mark: I
Type: Service
Function: Pallet Carrier
Project Phase: Released version / OS 6.0
Production: Mass Production
Ready Director: Paula Madera
Assignment: Skell Factories, Skell R&D centers
The Skell-Carrier serves really no other purpose than filling the scenery. They do not provide resources when destroyed and they will not alert Sentinel forces of the player's presence.
Gallery