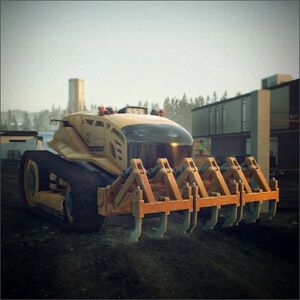 Skell-Excavator is an autonomous drone designed to search for mineral veins and collect resources.
Mark: I
Type: Service
Function: Autonomous Mining
Project Phase: Released version / OS 1.0
Production: Mass Production Ready
Director: Paula Madera
Assignment: Auroa mines
Trivia
Unlike the other civilian sector drone types, the excavator is never actually seen active. The drone provides resources when destroyed.
The chassis of the drone seem to accept universal attachments seen in the treemower and farmer drones.
Gallery