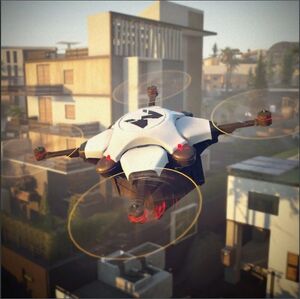 Skell-Transporter is a delivery drone designed to transport packages, food or other goods automatically to their targets.
Mark: I
Type: Service
Function: Delivery
Project Phase: Released version / OS 4.2
Production: Mass Production Ready
Director: Paula Madera
Assignment: Auroa archipelago
The drones can be found at various residential and industrial areas and randomly spotted flying through the archipelago wilderness. They can be shot down for resources. Unlike the police drones, they will not react to the player in any way.
Gallery
[
]